Is Mental Health Awareness Helping?
June 21, 2023
Mental health awareness has grown significantly in the past decade, especially since the advent of the COVID-19 pandemic. Due to the strenuous circumstances brought on by the worldwide crisis, conditions like depression and anxiety became more commonplace and easier to discuss openly. Athletes and celebrities have made headlines declining to compete or appear at certain events due to mental health struggles. Therapy is even becoming a staple of a well-balanced life in modern culture. But has the focus on mental health actually improved mental health issues in America?
Mental Health Rates in America
It's possible that mental health issues in America were prevalent but less reported in prior decades due to stigma, but it's also possible that mental health rates have worsened over time. Economic instability, technological overstimulation, a fragmented social fabric, racial disparity, an insatiable work culture, the recent pandemic, and our knowledge of global issues have all done their part to increase our stress level in the modern era.
According to Mental Health America (MHA), here are some statistics on mental health issues in the US:
Roughly one in five people were experiencing a mental health issue in 2019-2020.
Over 90% of people with a substance use disorder in the past year did not receive treatment.
Nearly 5% of the adult population (roughly 12 million people) have reported serious thoughts of suicide.
In 2020, 11% of multiracial adults reported serious thoughts of suicide.
Nearly 55% of adults with mental illness don't receive treatment.
About 10% of youth are experiencing life-disrupting depression.
Nearly one third of adults with a mental illness say they have not been able to get treatment.
In the past year, 6% of youth reported having a substance use disorder.
Nearly 30% of youth are able to get care for severe depression, but nearly 60% receive no care at all.
As awareness has increased, our ability to understand the problems at hand and address them has increased as well.
It's important to remember that while we're facing certain challenges in this age, we've also faced hard times in the past. Oppression, wars, economic downturns, political upheaval, epidemics, extreme poverty, and widespread injustice are part of our history, but our circumstances don't always have to dictate our mental wellness, resilience, or capability. As awareness has increased, our ability to understand the problems at hand and address them has increased as well.
Barriers to Treatment: Cost and Availability
The focus on mental health in recent years has not only decreased the stigma but enabled more people to get quality, effective treatment. However, barriers to treatment remain, including cost and availability of mental health providers. MHA shared some of the following statistical examples:
Over 40% of adults with a mental illness say they could not get care because they weren't able to afford it.
More than 5.5 million adults struggling with mental illness don't have insurance, with Hispanic adults being least likely to have health insurance.
It's estimated that there are 350 people (or more) for every one mental health provider.
Roughly 10% of youth with private insurance don't have coverage for mental or emotional issues.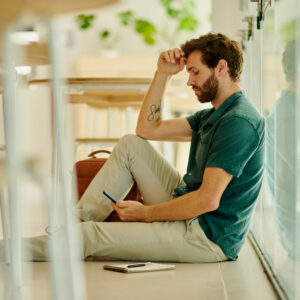 Rural areas suffer most from the lack of available mental health providers. The Centers for Disease Control and Prevention (CDC) reports higher suicide rates among those with professions in more rural areas, like farmers, miners, oil and gas workers, and construction workers.
Will it get better? The more we know, the more we can work to address these gaps. For example, The Safer Communities Act, signed into law in 2022, allocated $95 million in 35 states to increase mental health services in schools. Additionally, the 988 suicide and crisis helpline that launched in 2022 will be receiving $200 million more in funding, according to USA TODAY. Mobile apps that offer meditation, mindfulness, and symptom tracking are increasing in number, as well as organizations that offer virtual therapy sessions.
Even though we have more work to do in order to reduce the frequency and severity of mental health issues in America, awareness can foster prevention and help more people find treatment and resources. Knowledge of mental health issues helps more people understand how to step in when a loved one or colleague is struggling. It can also provide visibility on personal mental wellness prior to a crisis point.
Help for Mental Health
At Rio Retreat Center at The Meadows, we provide workshops that can help you heal from emotional and mental health issues. Our trainings are focused on helping you grow as a person by working through trauma, relational issues, fears, and hang-ups that have been holding you back. We offer a safe space for you to gain insight, process issues, and chart a path forward into a fulfilling lifestyle in recovery. Contact us today to learn more about our workshops and how they can help you break free from mental health issues and learn to thrive again.