The Benefits of Workshops
July 21, 2023
Are you feeling stuck in life and relationships? Are you in therapy but frustrated with the pace? In recovery but needing a boost in your journey? A workshop could be just the thing you need.
Weekly therapy sessions are an essential part of recovery, but you can only make so much progress in an hour-long appointment. Intensive workshops are a great option if you are not looking for inpatient treatment but want or need more immediate results than what weekly therapy can provide.
What Are the Benefits of Workshops?
Intensive workshops are designed to address a specific area of concern or personal struggle, often focusing on negative patterns and cycles that are holding you back from freedom and healing. The concentrated format allows you to gain insight into unhealthy behavior and practice new relational skills in a safe environment.
Openly sharing your struggles and emotions in a small group environment leads to greater vulnerability, openness, and self-acceptance.
Here are just a few of the many benefits of workshops:
Intentional time away from the busyness of life allows for a focused time of reflection and transformation.
Openly sharing your struggles and emotions in a small group environment leads to greater vulnerability, openness, and self-acceptance. A Community Mental Health Journal study found that young adults who shared their mental health struggles with others benefitted from increased confidence, greater self-awareness, increased ability to talk about their mental illness, and a reduction in self-stigma.
Forbes lists several professional benefits of intentional personal development, from increased compassion and decreased reactivity, to greater clarity on direction and better leadership skills in the workplace.
Substantial growth and healing can be accomplished in a short amount of time, making your time and money a worthwhile investment.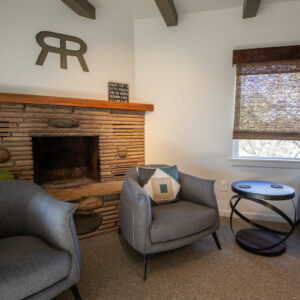 You may be surprised at the transformation that can occur when you're given the opportunity to focus on healing without distractions.
Types of workshops may include the following:
Mental health workshops
Addiction recovery workshops
Trauma workshops
Relationship workshops
Grief and loss workshops
The specific nature of workshops allows for targeted, intentional healing for your individual struggles.
Who Can Benefit from Workshops?
While anyone can benefit from intentional time away to focus on your mental health, workshops are particularly beneficial if you're feeling stuck or have a personal issue you need to take time to address. If you're in recovery from a mental illness or addiction, or have recently come out of inpatient treatment, workshops are an ideal way to enhance your recovery.
Whether you're looking to begin the emotional healing process from trauma, continue in your mental health journey, or renew your commitment to recovery, a workshop offers the time, space, and tools you'll need to succeed in these efforts.
What Should I Expect at a Workshop?
You will leave with greater awareness of yourself, healing of past hurts, and the tools you need to live a healthier, more authentic life.
Workshops typically last a few days to a week, and because they are so short, they are usually action-packed. Most provide on-site accommodations and all the necessary amenities for your stay so that you can focus completely on your healing. You can expect a full day of programming, often including evening activities. Workshops are in a small group setting, so you'll be surrounded by others who share the same goals.
You will leave with greater awareness of yourself, healing of past hurts, and the tools you need to live a healthier, more authentic life. Your relationship with yourself and others will improve as you put into practice the knowledge you gain during your workshop.
The Workshops at Rio Retreat
Rio Retreat Center at The Meadows offers a variety of intensive workshops, most of them lasting five days. Each one is designed with a specific goal in mind and run by our highly trained mental health professionals who specialize in the workshop setting. Workshops fall under the following categories:
We offer a range of workshops under these categories, so be sure to check out all our workshop options to see what is best for your needs.
"Our workshops are a 'deep dive' into whatever issue that brings them here. There is a synergy that is created when they go through their process with others who have the same issue," says Rio Retreat Center's Executive Director Jean Collins-Stuckert. "We often hear from alumni that the benefits keep coming long after they leave: in particular, increased self-care, empowerment, [and] making better choices [from] knowing they deserve better. They are also better partners and parents as a result."
Rio Retreat Is Here for You
Wherever you are on your recovery journey, Rio Retreat Center at The Meadows has a workshop to help you overcome the obstacles that have been holding you back from health and wholeness. Our unparalleled team of mental health experts has designed workshops for those struggling with unresolved childhood trauma, relationship issues, addiction, grief and loss, and more.
Everything at Rio Retreat has been designed with healing and recovery in mind. The rustic charm of a former dude ranch combined with modern comfort and amenities provides the ideal setting for time away to focus on your healing. Contact us today to hear more about our offerings and find the right workshop for you.